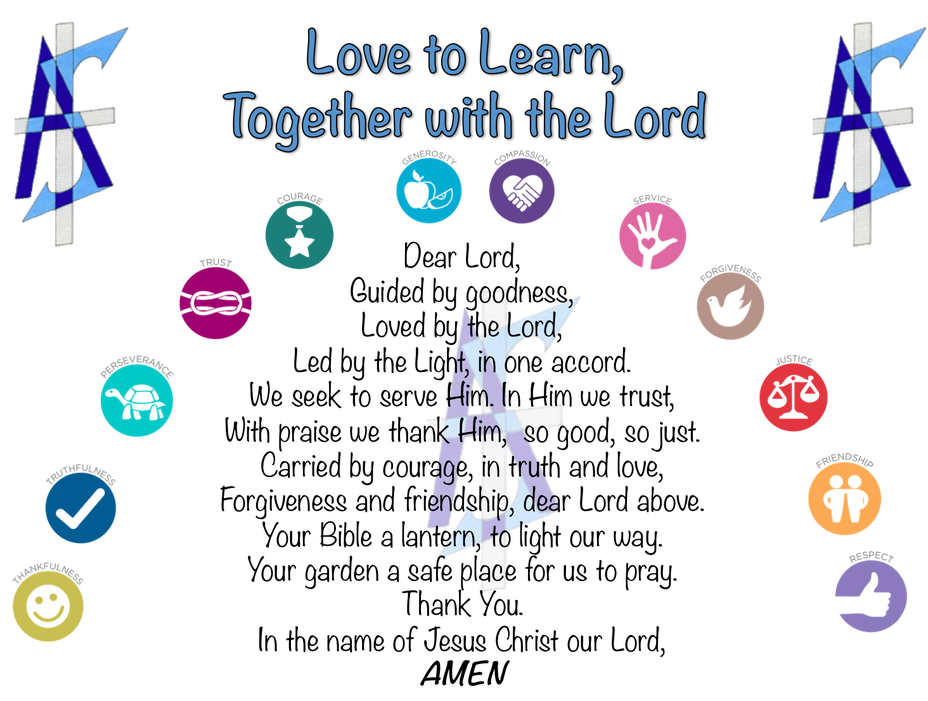 Our Vision
All Saints is a happy, safe and inclusive school where:
Learning is a rewarding and enjoyable experience for everyone.

We provide our pupils with the highest standards of education in a nurturing, fun and friendly atmosphere.

A wide range of enriching opportunities are provided.

Every child is encouraged to be an independent, reflective and creative learner.

We challenge every child to ensure they achieve, and reach their full potential.

We pride ourselves on exemplary behaviour, good manners and respect for each other.

Parents are welcomed and included in their child's education.

Staff are valued and trusted.

Children are provided with the necessary skills to grow into responsible, caring and fulfilled adults.

Our children make our community proud and are being prepared for life in Modern Britain.
This vision is underpinned by the Christian Values we share; Love, Perseverance, Friendship, Generosity, Truthfulness, Courage, Compassion, Service, Forgiveness, Justice, Respect, Trust and Thankfulness.
Click here
for this half term's Home School Value home help sheet – Truthfulness


Talk about PERSEVERANCE together...
Teachers often say that perseverance is something that many children find difficult. Very little that is really worthwhile in life can be achieved without perseverance. An athlete may train for years before they are ready to compete at the highest level. A musician must practice every day, sometimes for hours at a time, if they are to really master their instrument.
• How would each family member rate themselves on a scale of 1 - 10 at perseverance?
• Can you give an example of something you have achieved by determined perseverance?
• Is there a skill that you think you could improve with perseverance?
Try this at home:
(1) Throw a small ball to yourself.
First throw the ball up and catch it. Then try it with one hand. Then try it with the other had. Then try to clap after you throw the ball up, before you catch it again. Then try to clap twice!
(2) Move a small ball around your body.
Take the ball in one hand and try to make a circle with it around your waist. Then try to make a circle around your legs. Then try to do a figure eight with the ball – around one leg, between the legs, then around the other leg. For older children, you can try to have them drop the ball behind their back and catch it with the opposite hand (this is a bit tricky for small children who have little hands).
(3) Practice hitting a ball.
Try to hit the ball (when someone throws it to you) with something large, such as a tennis racket. Then try something smaller like a cricket or rounders bat.