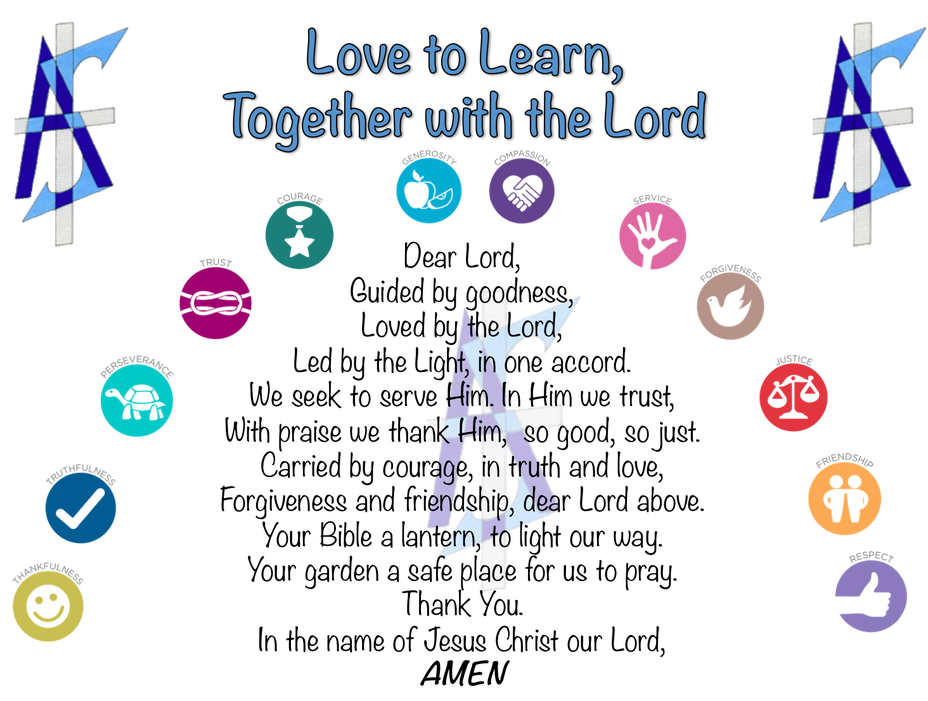 Our Vision
All Saints is a happy, safe and inclusive school where:
Learning is a rewarding and enjoyable experience for everyone.

We provide our pupils with the highest standards of education in a nurturing, fun and friendly atmosphere.

A wide range of enriching opportunities are provided.

Every child is encouraged to be an independent, reflective and creative learner.

We challenge every child to ensure they achieve, and reach their full potential.

We pride ourselves on exemplary behaviour, good manners and respect for each other.

Parents are welcomed and included in their child's education.

Staff are valued and trusted.

Children are provided with the necessary skills to grow into responsible, caring and fulfilled adults.

Our children make our community proud and are being prepared for life in Modern Britain.
This vision is underpinned by the Christian Values we share; Love, Perseverance, Friendship, Generosity, Truthfulness, Courage, Compassion, Service, Forgiveness, Justice, Respect, Trust and Thankfulness.

Click here
for this half term's Home School Value home help sheet – Forgiveness.
Everyone makes mistakes, it's part of being human. Sometimes our mistakes hurt others and then we need to say sorry. Sometimes mistakes made by other people hurt us. When this happens we need to be able to forgive. Forgiveness can be difficult and costly but without it a new start is impossible.
Talk together about:
• A time when you needed to say sorry.
• A time you didn't say sorry but wish you had.
• A time when you had to forgive someone who had hurt or upset you.
• How it feels when you are given a new start because someone has forgiven you.
Desmond Tutu
Desmond Tutu was Archbishop of Capetown from 1986 to 1996. Throughout his life Desmond Tutu worked tirelessly against apartheid in South Africa. Apartheid was a system that treated people differently because of the colour of their skin. People who were non-white were not given the same rights in the country as white citizens. For example they had to live where the government told them to, they were not allowed to vote, had to use separate transport, go to different beaches and use separate sports facilities.
There was much violence and oppression in South Africa during the years of apartheid, and when it finally ended in 1992 some people were left feeling bitter and angry and wanting revenge. In order to give everyone a chance to talk about the things that had happened to them Desmond Tutu set up the 'Truth and Reconciliation Commission'. Many people who had behaved badly could hear from those they had hurt. There was the chance to say sorry and sometimes receive forgiveness. The Truth and Reconciliation Commission helped to provide an opportunity for a new beginning for South Africa, a chance to build what Desmond Tutu called a 'Rainbow Nation' in which everyone had the same chance in life no matter what the colour of their skin.