CLAYTON GREEN LEISURE CENTRE - Gymnastics Competition
CLAYTON GREEN LEISURE CENTRE - Gymnastics Competition
8 February 2018 (by admin)
On Tuesday afternoon, 30th January, five members of our Gymnastics Club represented school at a competition at Clayton Green Leisure Centre.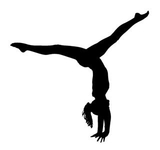 They had each learned a floor routine of ten elements and that was followed by a vault. All five pulled out all the stops to give excellent performances, which is not easy when your every move is being scrutinised by serious looking judges.
As usual, the standard in the Sports Hall was very high and of the 19 schools taking place, All Saints' achieved a commendable 9th place.  
Team:
Jack B
Elizabeth B
Willow E
Ellie K
Keane P