Breakfast with Santa - Saturday, 2nd December
Breakfast with Santa - Saturday, 2nd December
16 November 2023 (by Joanna Walters (JWalters))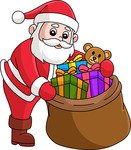 We are holding Breakfast with Santa on Saturday, 2nd December. The cost per child is £7.00 for the first family member and additional children/siblings directly in your family will be £3.50 each. Other relatives can attend but they will be £7.00 and then £3.50 for their additional siblings. Children will have a light breakfast and will then go into Santa's grotto where they will receive a gift.
Handmade Christmas decorations and refreshments for adults are available to purchase on the day.
If you call at the office we will be able to give you a letter to book a slot.