The Big Ask
The Big Ask
14 May 2021 (by Joanna Walters (JWalters))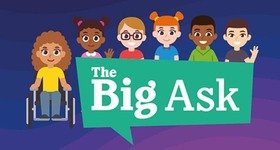 The Big Ask
The Big Ask is a survey for children and young people aged 4-17 in England run by Rachel de Souza, the Children's Commissioner for England. This is their chance to have their say on things that matter to them. They can tell the Children's Commissioner what their life is like, what they want in the future and anything they think is holding them back. She will use what children say to tell the people who run the country or your local area what they think needs to change to make their lives better.
We have done the survey with the children in school.
There is also a survey for parents https://www.childrenscommissioner.gov.uk/thebigask/adult-survey/ where you can also share your views.