Cinema Night - Thursday, 1st December, 3.15-6.00pm
Cinema Night - Thursday, 1st December, 3.15-6.00pm
18 November 2022 (by Joanna Walters (JWalters))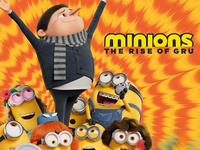 We are having 'Cinema Night' on Thursday, 1st December 3.15-6.00pm. The cost is £3.50 per child which includes a picnic tea. Please complete the permission slip below and return to school. We will be showing Minions The Rise of Gru' which is a U certificate.
The children will be able to buy one raffle ticket for 30p and if their ticket is drawn they will win the DVD.
You can pay for this on SCOPay or pay cash at the office.
THERE WILL BE NO CLUBS